Home Page Kingdom Index Plant Index Magnoliopsida Index Rosaceae Index
Potentilla rubricaulis Lehm.
Potentilla hookeriana Lehm
15 photos.
A beautiful early bloomer on decomposed granite known as the "rocky Mountain cinquefoil" or
" red-stemmed cinquefoil". I wrote the following paragraph because I could not distinguish the species
from "Hooker's cinquefoil". After spending several hours trying to say that one cannot differentiate between the
two species, there is no way that I am going to erase the paragraph. There is only one species and
Mr. Hooker is out of luck.
2 species which are difficult to distinguish are known as "Hooker's cinquefoil" and "red-stemmed cinquefoil".
Both species probably have red stems and both species are variable. Supposedly they may
be distinguished by the length of the stipe on the apical leaflets. Hookeriana usually has a stipe 2-10 mm in length
while the stipe on rubricaulis is usually missing or very short (0.2 mm). The leaves in hookeriana are usually
trifoliate, only occasionally having extra leaflets. The leaves in rubricaulis are either trifoliate or pentafoliate.
If you are able to imagine away the stipe on the pentafoliate leaf in photos 6 and 7 and remember the word
"usually" the above description works out pretty well. The other distinguishing characteristics concern the
hairs (botanists must have hundreds of words which they use to describe hairs ) on the various parts of the
plant, which is why the two species have been grouped together. Reference:'S.G. Aiken, M.J. Dallwitz, L.L.
Consaul, C.L. McJannet, L.J. Gillespie, R.L. Boles, G.W. Argus, J.M. Gillett, P.J. Scott, R. Elven,
M.C. LeBlanc, A.K. Brysting and H. Solstad. 1999 onwards. Flora of the Canadian Arctic Archipelago:
Descriptions, Illustrations, Identification, and Information Retrieval. Version: 29th April 2003.
http://www.mun.ca/biology/delta/arcticf/'.
ITIS Taxonomic Serial No. 504589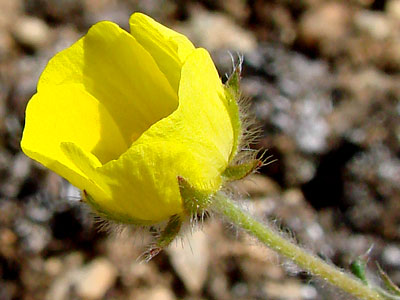 1.