Home Page Kingdom Index Plant Index Magnoliopsida Index Onagraceae Index

Chamerion angustifolium (L.) Holub
Epilobium angustifolium L.
43 photos
According to ITIS, Epilobium angustifolium L and its subsepecies are synonyms for Chamerion angustifolium
(L.) Holub. Common names for the species are "narrow-leaved fireweed", "willow herb", "great willow herb",
"rosebay willow herb", "blooming willow", "flowering willow", "blooming Sally", "bloodvine",
"purple rocket", "wickup", "wicopy" or "wickape".
ITIS Taxonomic Serial No. 510756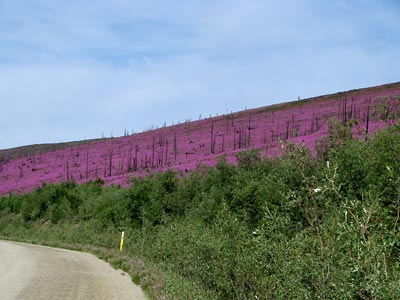 1. A field of fireweed in a burn area. The rhizome usually survives a fire, producing
numerous stems and a crop of seeds the following year which germinate producing a display
such as this. The fire occurred in 2004 and this photo was taken in 2007.