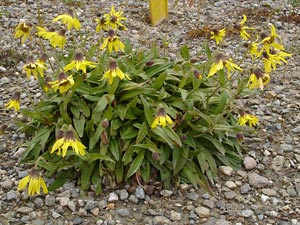 22. Large cluster of plants.
Photos 22 through 24 were taken along the Steese
highway in late August on Eagle summit
at an elevation of 3700 ft. This is very late
in the year for this species to be blooming.
The plants in this cluster are much larger
than the other plants on this page.
Note the plant with multiple blossoms at
the right of the cluster.This may be
a cluster of A. angustifolia with the
broader leaves.

Photo 25 taken along the Steese
highway on the Fairbanks appproach
to Eagle Summit.
Latitude: N 65° 28' 28.211"
Longitude: W 145° 25' 14.148"
Altitude: 1103.25 m.