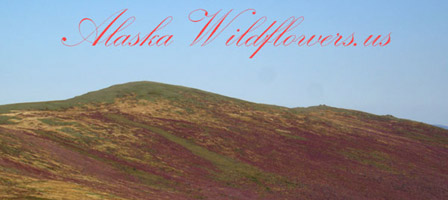 Web Resources Bibliography Kingdom Index
Photos of approximately 300 species (including non-flowering plants and fungi) mostly taken within 40
miles of the town of Central, Alaska. This includes Eagle Summit, the Pinnel Mountain Trail,
Twelvemile Summit and the Steese Highway. There are some photos from the Dalton Highway and Fairbanks.
This page loads slowly. You may use the Kingdom index above
or the links below to avoid having to load the entire home page, however to
search by species you will need to load this page. The 300x400 and 1200x1600 images on this site are available
under the cc-by license
Contact: bottomdollar@hotmail.com
The non-flowering plants, the monocots, and the dicot families: Apiaceae, Asteraceae, Betulaceae, Boraginaceae,
Brassicaceae, Campanulaceae, Caprifoliaceae, Caryophyllaceae, Chenopodiaceae, Cornaceae, Crassulaceae,
Diapensiaceae, Elaeagnaceae, Empetraceae, Ericaceae, Fabaceae, Fumariaceae, Gentianiaceae, Grossulariaceae,
Haloragaceae, Lentibulariaceae, Nymphaeaceae, Onagraceae, Orobanchaceae, Papaveraceae, Plantaginaceae,
Polemoniaceae, Polygonaceae , Portulaceae, Primulaceae, Pyrolaceae, Ranunculaceae, Rosaceae, Rubiaceae,
Santalaceae, Saxifragaceae, Scrophulariaceae, Sparganiaceae, Valarianaceae and Violaceae are finished.
Added in 2010: Lamiaceae, Menyanthaceae. Added in 2011: Salicaceae
Added 2012: History of botanical exploration in Alaska and Yukon territories
from the time of their discovery to 1940 by Eric Hultén
Thumbnails with red borders on this page are currently active.
Clicking on the 300 pixel wide thumbnails on the species page will usually yield a 1200 x 1600 photo.
For a similar site try Project Poppy at the Circle District Historical Society website